For your skin and hair, personal and home products.
Organic and pure ingredients.
Handmade with love utilizing energies of solar and lunar cycles, spiritual guidance, energy work and prayer.
Enhanced and amplified with the vibration of sound and crystals.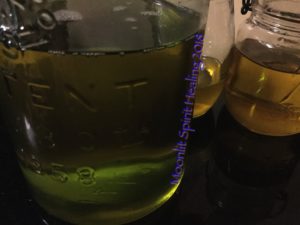 * * *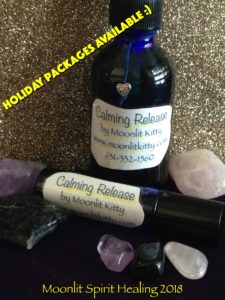 Calming Release Oil
2 oz sprays $17
10 ml rollers $ 7
An extra special batch of Calming Release Oil is now complete after 11 weeks of brewing time.
I was prompted to allow this batch its unique process, following guidance along its course. Calling upon Mother Mary, Padre Pio and Christ consciousness. Adding the assistance of crystal and sound vibrations, prayers, intentions, energy work and all tools in my knowledge base.
I knew today was the day, before fully exiting the energy of the Full Moon in Pisces, which also turns out to be an 11 day as well. I find it amazing how this always seems to come together so perfectly.
* * *
This batch carries with it all the qualities that my Calming Release Oil brings, such as instantaneous grounding, deep calming of mind and of muscles, release from the roots of our emotional and spiritual imprints, vivid dreams, and a general feeling of peace, and so on…
Yet, I knew the importance of allowing the powerfully intense energies of these past few months to percolate, process, culminate and flow through as these cycles hit home for a lot of us; eclipse season, supermoons, planetary alignments and retrogrades and the Lion's Gate, to name only a few…
Quite a lot of big changes and life altering revelations.
I have felt for quite some time that August would bring with it change, yet would be a bit more of the feelings of being stuck in the work and grueling aspects of it. Where September would bring that lighter breath of air, freer and easier, bringing liberty, love, friendships, movement.
Today, as the energy of this beautiful full (and passion red!) moon in Pisces wanes, on a Master Number 11 day, quite literally made for manifesting and creating the life we want; Following this lengthy process of transformation and release, I am excited to present this Calming Release Oil to you.
10 ml rollers and 2 oz sprays available for purchase or consider gifting yourself a private healing session with me utilizing this wonderful oil. Message me for details.
Much love~
~ Cat Moonlit Kitty & Moonlit Spirit Healing
💜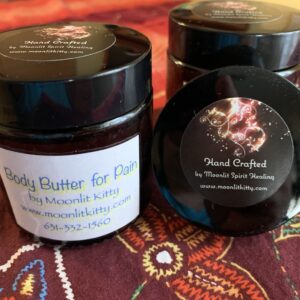 Body Butter for Pain, Organic
4 oz jar $35
2 oz jar $18
* * *
My already potent proprietary formula is now power packed with Comfrey!
This creamy butter gets quickly and deeply into joint, muscle and nerve pain; highly effective in relaxation and calm as well. Designed to work deeply into the root of the matter, great help with pain and swelling.
Each ingredient hand picked by me for their anti-inflammatory, healing and pain relief properties, from the best sources available.
With healing energies and intentions added throughout the process of creation.
Use on arthritis, bruises, tight and sore joints and muscles, nerve pain, sports injuries, and any closed wound. For topical use only.